Sound Designer Best Practices
We are frequently asked where and how the Sound Designer's extensive capabilities can be best used in the automotive industry. The answer is straightforward – you can use it in any situation that calls for active sound design.
Imagine that you need to perform some basic sound design. You run the Sound Designer on your standard notebook and listen to the created sound with headphones.
Or, you have to prepare a management demo or customer drive. You continue to use the Sound Designer while connected to the vehicle unit hardware box. Prepare the sound signatures on your desk, take the vehicle unit to the demo car, plug it in and you are ready to drive.
Or, you need to perform the final tuning for mass production release. Take your notebook, connect it to the embedded mass production hardware in the car with USB, let your colleague drive and finalize the tuning during the test drive. When finished export the parameters and provide them to your Tier1 supplier for mass production release. Done.
The neosonic Sound Designer is the one sound design Tool for all these applications and use cases. Whatever you do, you'll always use the same editor and the same data sets, from the first basic idea to the final mass production release tuning.
More specifically, you can decide whether the sound should be generated on your PC ('Emulator'), one of the prototype hardware units available (vehicle unit, AVAS unit), or on the embedded hardware device to be used for mass production (DSP amp, head unit, ECU from your Tier1). Just select the output device from a single drop-down menu and don't worry about the details.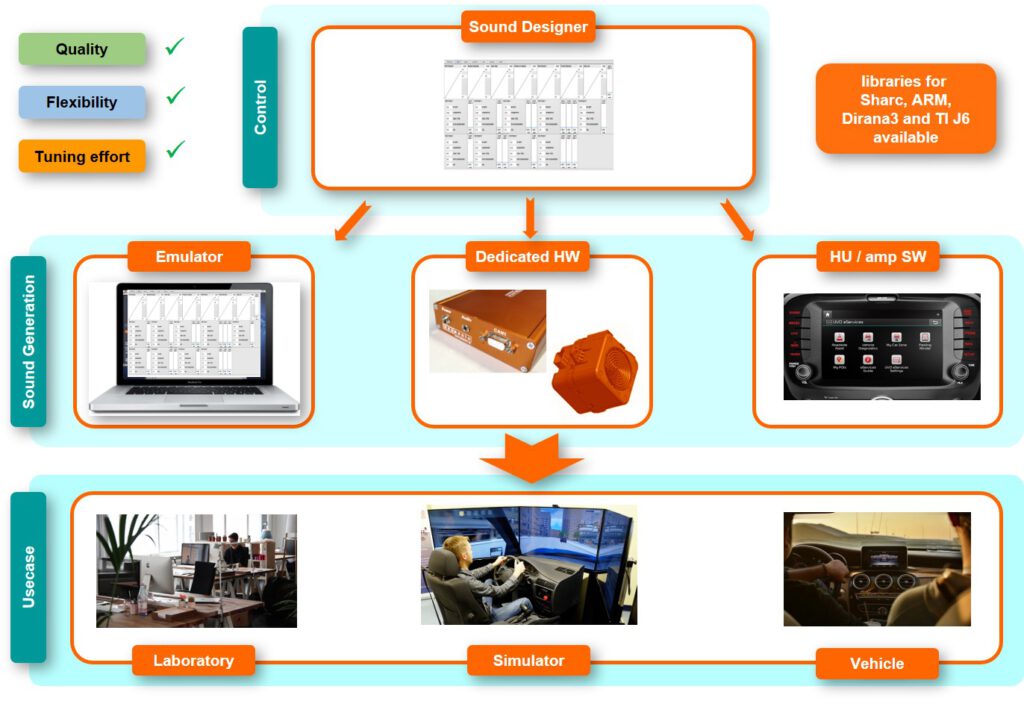 This means you can use the same application in completely different scenarios, but with identical handling:
 – in office/laboratory conditions on your desk
 – in simulators: simply plug the system into any simulator generating CAN messages with the supplied CAN interface hardware
 – directly in the vehicle: all sound generation devices can be used here, from Emulator to embedded devices
In every application scenario you will profit from the streamlined process:
 – all parameters can be changed in realtime – no tedious flashing of new parameters or sound samples is required. Change a  parameter or load a sample and immediately hear the difference
 – sound signatures are independent from the target device – a signature sounds the same on Emulator and embedded devices, sufficient resources provided
 – the sound signature defines the signal chain – change the sound generation method without the need to flash any device. Simply dump a different sound signature within seconds to change from a combustion vehicle support signature to a BEV signature including interior and exterior sound generation.
Contact us and request a demo to see Sound Designer in action!
Sound Designer. Create the best sound, with ease.