So-called silent vehicles – Hybrids (HEV and PHEV), Battery Electric Vehicles (BEV) and Fuel Cell Vehicles (FCV) – must be equipped with an Acoustic Vehicle Alert System (AVAS) to warn pedestrians. The Sound Designer AVAS Unit is a versatile extension of the Sound Designer application for AVAS sound development, in-vehicle evaluation, and mass production preparation. The sound generation is directly performed on the AVAS Unit, thus considering the typical restrictions for AVAS sound reproduction.
The Sound Designer AVAS Unit is an off-the-shelf, ready to deploy mass production device. Sound signatures developed with it can directly be used for mass production as all tuning parameters can be exported from Sound Designer e.g. as an ascii header file at the touch of a button.
AVAS Sound Development
Sound Design development is usually performed in a studio or laboratory environment using high-quality equipment. In contrast, typical mass production solutions available as AVAS devices show restrictions regarding the sound reproduction capabilities – small, lightweight and inexpensive loudspeakers must be used.
To overcome this, a mass production AVAS Unit is supplied to be used for the complete Sound Design process on a real mass production device like the Sound Designer AVAS Unit.
The AVAS Unit includes the same sound generation and manipulation features as the Sound Designer application. It can be used to fully control the AVAS Unit and define the sound by setting all parameters in real-time.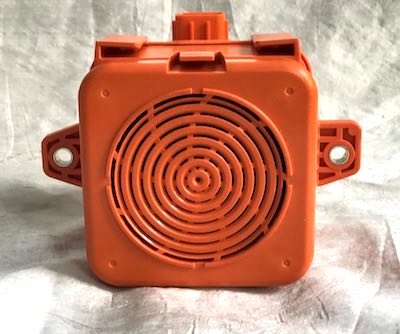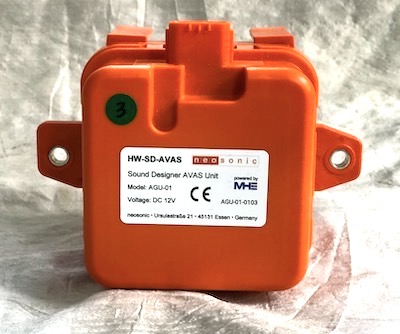 Want to make sure during tuning your AVAS sound will meet legislation?
Sound Designer's AVAS.CHECK software module enables sound designers to pre-check a given sound signature for legal conformity in advance, i.e. right during the sound design work flow. This approach dramatically reduces AVAS sound development time as its homologation status can be assessed at any time throughout the entire sound design phase.
In AVAS.CHECK you can import the transfer function of the AVAS speaker box mounted in the vehicle and apply it to the measured AVAS sound at all relevant speeds.
At the window's top left there is a spreadsheet-like table whose columns hold the currently available legislations by country and the individual requirements pertaining to speed, pitch, spectrum etc. in its rows.
Clicking one of the red or green cells inside the table selects the corresponding row and column, i.e. a legislation and a requirement. The overall levels and third-octave displays to the right are updated accordingly to show the evaluation result for this combination, e.g. the 20 kph minimum level criterion in the EU as shown.
Clicking a cell reveals the measurement result for this particular condition. Further evaluation details are displayed in the Detail Eval Result section, giving instructions on what to improve to meet legislation for the chosen criterion.