neosonic works with the leading international automotive OEMs as well as Tier1s / Tier2s. 
As an example the Mercedes AMG SLS Electric Drive is shown here which in 2013 was the first series EV world-wide to feature interior sound. Delivered by neosonic. 
Since then countless automotive active sound design projects for interior, exterior, AVAS, and brand sound have been devised and completed. 
Inquire us for further references.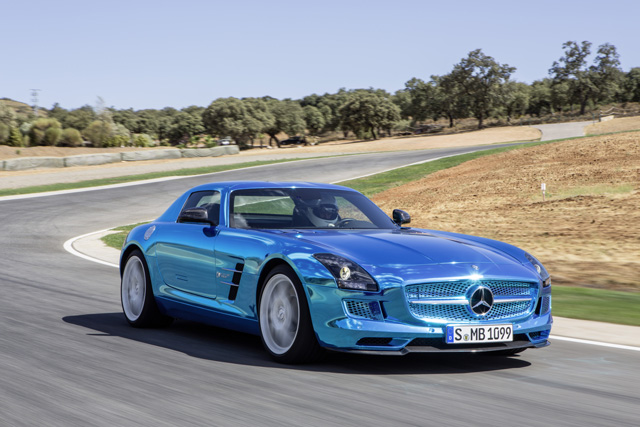 Press
"Unlike lesser electric vehicles, which operate silently, the AMG SLS Coupé ED will be music to the driver's ears, equipped with a special soundtrack which captures the acoustic thrill of driving an electric car, even without a V8 under the hood." –autonet.ca
"Now you could have used the sound of a V8, but it sounds like a ruthless monster from the past. And so the Mercedes AMG SLS Electric Drive has the sounds of the future on it, the deep bass of a bowed string is modulated, serves as the basis for starting, for acceleration and top speed and for the action of the brakes. " –Faz.de
"The acousticians composed a sound that was supposed to make the enormous power and torque of the AMG SLS ED acoustically perceptible and at the same time switch off the singing and humming typical of the electric drive. You can tell how successful this is when you switch off the background sports noise. Until then, the respective noise matched exactly what vehicle technology had just given up. It sounds dynamic when accelerating and cautious when driving steadily. " –Auto.de
"Let's go: The feeling of acceleration is special because the SLS Electric Drive moves forward so spontaneously and completely without any twitching. And of course because only a subtle, synthetic sound is produced. " –Spiegel.de
"The exclusively developed AMG eSound makes this unique driving experience acoustically special and emotional. Driving performance in a new dimension – a convincing synonym for the brand promise of Mercedes AMG. " –Autoplenum.de 
"Even without a V8 engine underneath the bonnet, the AMG SLS ED still sounds like a high-performance car with its eSound module. The occupants can enjoy a tailored sound pattern to suit each driving situation: incredibly dynamic when accelerating, subdued and restrained when cruising and intuitively comprehensible during recuperation phases – i.e. when the driver decelerates using the steering-wheel shift paddles and energy is being recovered. Using, in the main, authentic yet denaturalized real noises that cause the driver to make a subconscious association is of great benefit here as they do not sound artificial, as is usually the case with synthetic noises. This form of sound generation is thus far unprecedented in the field of production car development, and gives the driver emotive, instantly comprehensible feedback on the vehicle's current behavior. –sportscarillustrated.com