neosonic automotive audio design is an EU-based company focused on automotive Active Sound Design.
We make the Sound Designer software suite complete with ready-to-use prototyping hardware and comprehensive Tier1 ECU support.
We provide the full range of automotive sound design- and NVH-consulting, audio software engineering, and sound production services.

Our Active Sound Design software has been in mass-production at many leading OEMs since 2013.
Looking for short time to market, great sound quality, and modular software flexibility in one easy-to-use package? Give Sound Designer a try.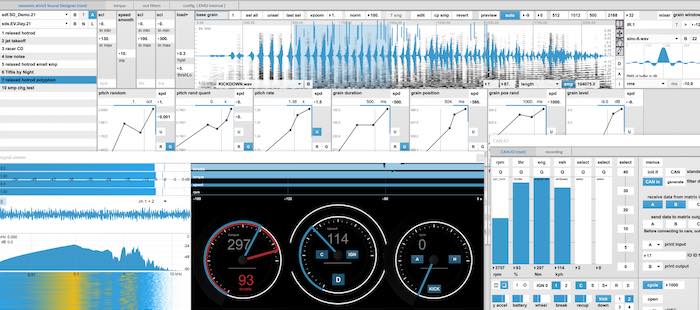 Sound Designer is a gorgeous sounding modular active sound design development environment. It covers all aspects of active sound design creation and provides a versatile range of real-world templates to immediately start working from. 
Prototype your first sound signature within the first hour. Drive it in a simulator or car within the second hour.
Sound Designer comes complete with everything you need to deliver convincing active sound designs for cars and ready them for mass production in a streamlined process. Choose from order-based and granular sound synthesis algorithms. Beef up your sound signatures with frequency modulation (FM) synthesis, pitched sound file playback, or a noise generator. Activate a shepard module and throw in some iir / fir filters and effects processing for good measure.
Create and perfect your sound in real-time with instant sonic feedback throughout.
Use the included vehicle data playback module to drive your sound with real-world measurements from Simcenter Testlab LDSFs, vehicle data embedded in standard wave files. Generate driving data with function curves quickly jotted on the screen or simply move speed-, rpm-, torque-sliders with mouse / touch / pen.
Play back a synchronized video of your drive cycle from the driver's seat or a drive-by shot for a more realistic tuning experience. 
Hook up your PC to a car's CAN bus with the supplied multi-channel CAN interface. Dump your sound signatures to the supplied prototyping ECU or to a supported Tier1 ECU. Immediately drive your sounds in the lab or car and perform real-time vehicle-level tuning. It is that simple. 
Sound Designer has been developed by automotive sound designers for automotive sound designers.
1. choose a template
2. fill in your content and tune in the lab
3. seamlessly continue tuning and validating in a vehicle on the PC or a supported ECU
Done.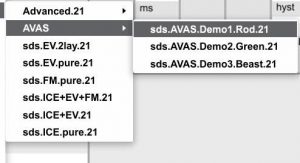 Sound Designer comes with a host of ready-to-use templates. 
The supplied templates cover the most common use-cases in active sound design for EVs, ICEs, and PHEVs. Their signal chains range from the most simple 1-layer to more complex 4-layer layouts to have you covered for all kinds of design tasks. Sound signatures are defined by the signal chain which is the selection and arrangement of processing modules. Loading a new signature will also load a new signal chain which can be entirely different. This makes Sound Designer extremely flexible. 
A special section of templates is devoted to AVAS sounds to get you up and running with sound design for AVAS in no time. AVAS sound signatures run on the PC or on the supplied AVAS ECU which is ready for mass-production.
The Advanced signatures section sports more complex templates with feedback sounds, FIR filters, and other special features. 
Harvest neosonic's vast experience in automotive sound design which has been built into the Sound Designer's straight work flow. 
Start from a template on the PC. Try different source samples, massage them with driving data from the CAN generation module. Tweak parameters like pitch, volume, filter frequencies in real-time during playback. Save your result as a named preset. Dump it to an external sound generation hardware unit such as the provided or a third party ECU. 
Plug the ECU into a vehicle and continue tuning using the same editor software throughout the process. 
All changes whether made on an ECU or the PC are 1:1 compatible with all supported platforms, making the seamless transition between platforms a reality.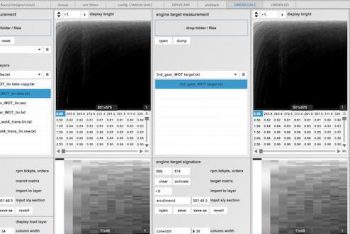 real-time tuning, assignable vehicle signals
All parameter editing in Sound Designer is strictly real-time to speed up the process of sound creation and tuning to the maximum. 
Designing great vehicle sounds needs a good idea plus honing it to perfection. This can only be achieved with a real-time tool as it couples the designer to the sound in a tight loop. No cumbersome value setting and verification, you just tweak parameters while the simulated or real vehicle is moving and the sound is being generated. This high-speed approach doubles the sound quality while cutting development time in half, at least.
Freely assign a physical vehicle signal such as rpm, vehicle speed, engine torque, accelerator pedal to audio parameters by simply selecting it from a pop-up menu as shown. 
With a strong background in music technology and sound design Sound Designer's sound synthesis, filtering, and audio post-processing algorithms have been carefully crafted to deliver a beautiful, rich sound quality. 
Given Sound Designer's flexibility to support signal chain layouts from simple to utmost complex, high sound quality will make your vehicle's interior, exterior, feedback, and AVAS sounds stand apart from the competition.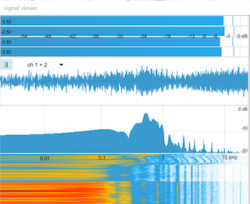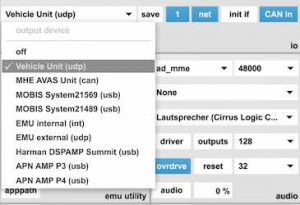 design once, deploy on any device
Sound designs made with Sound Designer can be seamlessly deployed on any supported device, including the bundled AD Sharc-based Vehicle Unit ECU. In Sound Designer simply choose an output device, dump your sound signature, and continue tuning where you left off on the PC. 
Supported devices range from standard Windows PCs to the most widely used automotive chip sets such as several AD Sharc DSPs, TI J6, Dirana, ARM. 
The range of supported platforms is continuously expanded. Inquire us about support of your target platform. 
specify your custom signal flow
The range of supplied templates isn't enough for your specialized requirements and ideas? 
Looking for a different routing of CAN signals, more filters, more layers of various sound synthesis algorithms, effects processors in parallel or chained on some but not all signals? Or less of everything to spare dsp cycles and reduce memory footprint?
No problem due to Sound Designer's modular architecture. Simply specify your audio and control signal flow and we will quickly provide your one-of-a-kind custom signal chain template. 
Quick turnarounds, ready to use, no headaches.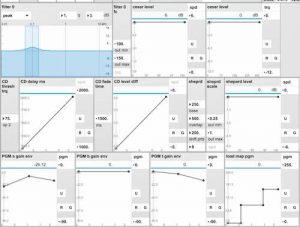 See Sound Designer in action.